8-bit Battle
8-BIT BATTLE is a card game released for the Exelvision computers (64K required, Exeltel prefered).
You play a battle against the computer. Choose the right characteristic to over-power your opponent's card. Deck features 56 old computers details and pictures.

Different game modes available (normal, blind & blind extreme) and difficulty levels.
Install instructions
Ho to run the game ?

On a real computer:
Load the WAV file on an Exelvision Exeltel/EXL-100 computer with ExelBasic+ and 64K RAM expansion.

Type LOAD "1.BATTLE" at the prompt.
and RUN
On an emulator:
Use DCEXEL to run the game.
Use the K7 file to load the game.

Options must be set like this :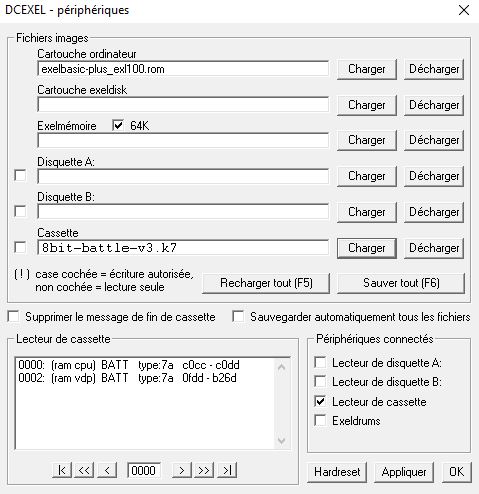 And you must choose "EXELTEL" in "Paramètres" if you want to hear the computer talking :-)
Then type LOAD "1.BATTLE" at the prompt.
and RUN

Enjoy